Morgan's Run - Sailing Cruise/Rally
Early summer of every year is a date to put on your cruising calendar. This is when the sailors of Cartagena join with the cruisers in the Southern Caribbean for a friendly 400-mile ocean sailing rally from Cartagena to the island of Old Providence. Morgan's Run 2007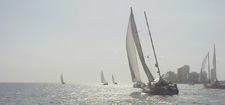 Getting Underway in Cartagena
The early summer date is convenient for those either moving west from Venezuela and the ABC's or coming east from Panama and repositioning prior to hurricane season. While Cartagena Bay itself is a perfect place to sit out hurricane season, many boats pass through on their way to the Bay Islands of Honduras or on towards the Rio Dulce in Guatemala. Morgan's Run provides these people an opportunity to travel north in a group, while scratching the itch of many a cruiser to tighten the sheets and have some competition.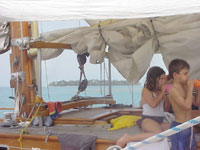 It's not all heavy sailing
Old Providence, where the rally ends, is an island not to be missed. It is an English-speaking Colombian island laying 55 miles north of San Andres about 150 miles off the Caribbean coast of Nicaragua. It is largely untouched, maintaining its traditions and its music. One of the prime motivations of this race is to support the island's heritage and traditions, and to help it attract sustainable and environmentally friendly tourism.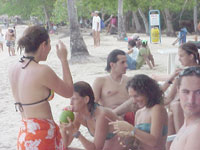 Morgan's Run crew relaxing
Morgan's Run is not intended to challenge the professional boat. It is a friendly event focusing on integrating locals and visitors. In the past it has attracted a potpourri of crafts from the original Sundeer to a hand-built Tahiti Ketch. If you believe that you might be prepared to join in, please contact us by email.