Submitted by Editor on Sat, 01/20/2007 - 15:59.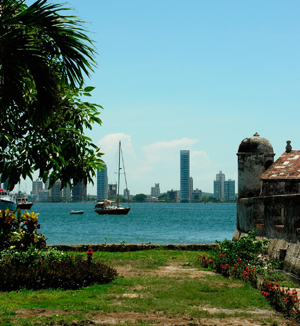 Cartagena de Indias is a city of many contrasts. Not the least of these is that between the Old City and the New.
The Old City or Walled City, El Centro or Ciudad Amurallada as it is referred to locally, is the fortified Spanish town that was so important to the Spanish Empire in the 16th through the 18th Century. Surrounded by its thick stone walls that required almost one hundred years to complete, this jewel of Spanish Colonial heritage contains plazas, churches, narrow streets and balconied houses in admirable states of preservation.
Outside the Old City walls, however, lies another Cartagena rich in opportunities for entertainment, shopping and relaxation. To the south of the Walled City is the neighborhood of Bocagrande distinguished by high-rise buildings, the long city beach, extensive shops on San Martin Avenue, and important hotels such as the Almirante, El Caribe, Capilla del Mar, and Cartagena Hilton. The latter is located at the end of Bocagrande, in the neighborhood of El Laguito, where you will also find the premier emerald shopping center called Pierino Gallo Plaza. A visit there is a must if you are interested in finding emeralds and jewelry, handcrafts, leather, premium coffee and fine cigars. The windsurfing and surfing area is located on the beach just beyond Pierino Gallo.
To the east of the Clock Tower is the Convention Center, and the street of El Arsenal with its many late-night bars and dancing venues. Beyond these, over the Román Bridge (Puente Román) is the residential neighborhood of Manga with the Club de Pesca Yacht Club and Club Nautico Marina; and further along is Cartagena's port and its cruise ship docks.
Nothing is more than a short and inexpensive cab ride away. Don't miss out on either the Old or the New.
I provide help with private tours of Cartagena at the request passengers who are planning to visit aboard cruise ships calling in this port and who want more flexibility and/or personal attention for their Cartagena shore excursions.